CARBON FIBER APPLICATIONS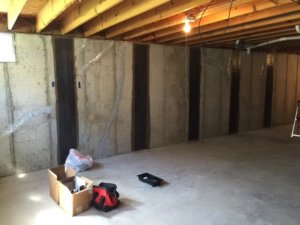 Carbon fiber is many times stronger than concrete and if applied correctly to properly prepared concrete, the original wall strength can be regained.
Some cracks including horizontal cracks, bowing cracks and street creep cracks occur because outside pressure causes the concrete to stress and break. If these are caught early it is possible to stop further movement and additional damage by applying carbon fiber "beams" to the wall.  Carbon fiber is used to repair and enhance strength on large projects on a regular basis including highway bridges and parking structures. It is important for the homeowner to be educated about why these cracks occurred in the first place and to take action to relieve the pressure that caused the concrete to break.
REQUEST A FREE EVALUATION
If you need cracks to stop leaking, or are preparing your home to sell, contact The Cracksmith today!
"*" indicates required fields